| | |
| --- | --- |
| | |
---
Current Affairs MCQ for UPSC Exams - 15 April 2021
Posted: 15 Apr 2021 05:20 AM PDT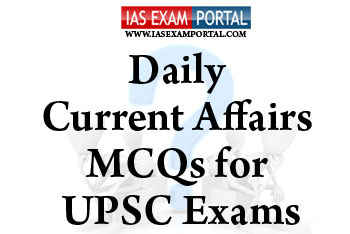 Current Affairs for IAS Exams - 15 April 2021
Posted: 15 Apr 2021 05:14 AM PDT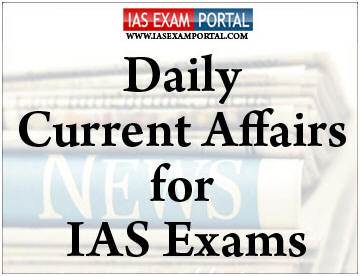 उत्तर प्रदेश राज्य GK प्रश्न (सेट -30) for UPPSC Exam
Posted: 15 Apr 2021 04:11 AM PDT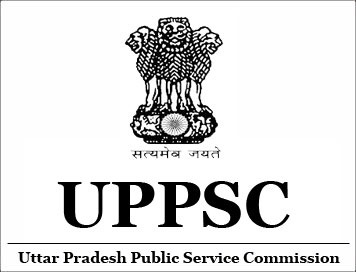 उत्तर प्रदेश राज्य GK प्रश्न (सेट -30) for UPPSC Exam
1. उत्तर प्रदेश
में

कुल

सिंचित भूमि

का

कि

तने

प्रतिशत

नहर

द्वारा सिंचित

है ?

a. 25 %
b. 30 %
c. 40 %
d. 50 %
2. उत्तर प्रदेश
की

आगरा नहर ओखला के पास

किस नदी

से

नि

का

ली

गई है ?

a. गंगा
b. रामगंगा
c. शारदा
d. यमुना
3. उत्तर प्रदेश का
विद्युत उत्पादन की दृष्टि

से

सम्पूर्ण

देश

में

कौन-सा

स्थान

है ?

a. 1
b. 2
c. 3
d. 4
4. उत्तर प्रदेश
में केंद्रीय वानिकी परिषद की

स्थापना

कब

की

गई ?

a. 1948 ई.
b. 1954 ई.
c. 1950 ई.
d. 1895 ई.
5. उत्तर प्रदेश
में

भारतीय

वन्य

जीव

परिषद

की

स्थापना

कब

की

गई ?

a. 1948
b. 1852
c. 1952
d. 1906
Model Questions for UPSC PRE CSAT PAPER SET - 58
Posted: 15 Apr 2021 04:04 AM PDT
Model Questions for UPSC PRE CSAT PAPER SET - 58
  Passage : Instruction for question- read the following passage and answer the questions that follow. Your answers to the questions should be based on the passage only.
In a sense, 2012 has the potential to be call important milestone; As of January, it has been more than 12 months since India recorded its last case of poliomyelitis. If 2012 passes without this record being disturbed, India and the rest of the world would have made significant progress toward eradicating only the second human disease ever. As with small pox, the primary tool that is being employed is a highly effective Vaccine. It is because of their tremendous public value that the famous economist Jeffrey sachs once
called vaccines and other similar health interventions 'weapons of mass salvation'. This potentially defining advancement in the battle against polio comes, coincidentally, at a moment
of reckoning for vaccines and immunization. In May 2011, 'the decade of vaccines collaboration' was lunched at the World Health Assembly. With a Variety of stakeholders- ranging from United Nations agency to multilateral bodies, national governments to philanthropic institutions- this efforts hopes to maximize the power and potential of vaccines over the next decade, and expect full benefits of immunization to everyone.
1. You presented an idea in front of the board of directors. Your boss praises you by saying that you have a 'good style' here?
(a) Clean clear thinking
(b) Good and unique idea
(c) Impressive way of speaking
(d) Fearless attitude
2. You are the district magistrate of a remote district and you have to deliver a speech is one of the remote villages 'you will'
(a) Use cheesy words and fancy language.
(b) Use formal words, without much interactive lines
(c) Use familiar, native and simple words with a touch of interactive lines.
(d) Use circumlocution and abstract words.
3. A guy sent an email to the boss of a big firm saying "we were not able to access the following application, and we need to know why", the boss gets angry on reading this the reason may be
(a) Email did not convey the right massage.
(b) The language used in the email was not good.
(c) Emails are not good way for formal massages.
(d) The Pshchological method and the expression was not conveyed properly because of lack of physical interaction.
4. Technology is playing an important role in interaction processes of common people with the government, the reason could be
(a) Efficiency and freedom.
(b) Growing numbers of mobile phones and internets in far flung areas also.
(c) Accessibility is short time, thus saving time and energy and money.
(d) All of the above.
5. The best way to answer financial inclusion is
(a) Use of mobile phones.
(b) Use of internet
(c) Use of knowledge of banks.
(d) Use of private sectors.
(Getting Started) Preparing for Economics Optional – Aishwarya Sheoran's Strategy (AIR 93)
Posted: 15 Apr 2021 03:43 AM PDT

---
---
(Getting Started) Preparing for Economics Optional – Aishwarya Sheoran's Strategy (AIR 93)
---
---
Aishwarya Sheoran's story is what a may be a film story is made of. This Miss India 2016 finalist has taken the news cycle by storm by securing an all India rank of 93 in the UPSC Civil Services examination 2019. She is a graduate of economics and thus, chose Economics as her optional. With that, she secured a rank that has now cemented her to getting entry into the coveted Indian Administrative Services (IAS).
Aishwarya Sheoran, AIR 93, UPSC CSE 2019
Who Should Pick Up Economics?
Economics is a technical subject and one must have some inclination towards it before taking it up. If one is a student of economics then this is the best possible subject for them. Even if they are not, anyone who is willing to spend time understanding the nitty-gritty of the field and finds themselves intrigued with how economics works can pick it up. It is not hard; it just needs dedication.
Why Should One Pick Economics?
Economics is a very scoring subject. From the UPSC Civil Services examination perspective, it is also a major chunk of the General Studies Paper III syllabus. The syllabus for GS-III and the syllabus for Economics Optional overlap to a great extent. Not to mention portions of economics such as Agriculture and the Economic Survey are a major part of the General Studies as well as Preliminary syllabus. Economics is also very to the point and requires the use of crisp facts and figures. The sources are limited as it is a newer behavioral science and has not many established authors. Thus, it is much more manageable.
Economics Optional Paper I and Paper II:
What to Cover and How?
Paper-I is the more technical out of the two. It covers macro-economics, microeconomics, money, and finance, banking, and growth and development. It covers a lot of mathematical aspects of economics. An economic background helps in this paper. However, if you do not have a background, take your time when studying this paper.
Paper-II is mostly about Indian Economic History. It is related to GS-III. Aishwarya herself has studied this paper from her own graduation notes and the little that was left, she searched them up on the internet and made fresh notes. 
Topicwise Booklist and Other Sources
Here is Aishwarya's topic-wise booklist – 
Economics Optional Paper-I
Micro Economics – H.L. Ahuja
Macro Economics – H.L. Ahuja, Froyen
Money and Finance – H.L. Ahuja
Public Finance – H.L Bhatia
International Economics – Salvatore
Growth and Development – Online Sources, H.L Ahuja
WTO, Environmental Economics – Online Sources
Economics Optional Paper-II
mrunal study notes
Aishwarya used her graduation notes; she suggests you take the books mentioned by other toppers
Do not ignore the Budget and the Economic survey.
Try and make notes from the budget speech directly to ensure you don't miss details. This also helps in developing a better understanding. As for the Economic survey, it is usually a 2-part compilation with each part having around 500 pages. Aishwarya herself had reduced it to 4 pages of notes which she studied right before her interviews and could answer related questions on it.
How Much Time to Give to Economics as an Optional?
Aishwarya has given it 3 months – August, September, and October 2018. She made notes during this time and kept revising these notes regularly. It is best to complete the optional before the preliminary examination as there is not much time between preliminary and mains exams. She used to spend roughly 5 hours every day during this time for her optional. But she never stopped her General Studies preparation. Even when she was wholly concentrated on her optional, she still kept studying her current affairs related to General Studies for 2 to 3 hours every day.
Answer Writing Practice
Aishwarya joined a test series in Delhi. She had taken 14 to 15 tests for optional. It helped her ensure she was finishing her papers on time and also to better the quality of her writing. Aishwarya suggests starting with the compulsory questions. In there, she started with 20 markers and then complete 15 markers. But she advises you to do what works for you.
For Economics, keywords are very important. Examiners mark these points first and then evaluate the rest of the answer. Aishwarya recommends picking these keywords from the Economic Survey Report, the Budget Speech, and the NITI Aayog's 'India at 75' report. The goal is to complete your optional on time, and that in itself is half the battle won.
© IASEXAMPORTAL
CLICK HERE TO DOWNLOAD UPSC TOPPERS NOTES
Public Administration Papers Topic : Comparative Public Administration
Posted: 14 Apr 2021 11:37 PM PDT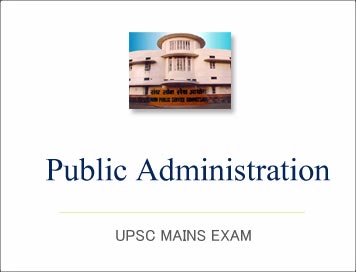 ---
Public Administration Papers Topic :  Comparative Public Administration
---
"No science of public administration is possible unless.... there is a body of comparative studies from which it may be possible to discover principles and generalities that transcend national boundaries and peculiar historical experiences." Discuss. (20 marks 2005)
"Not to be comparative is to be naively parochial" (Riggs). Comment. (20 marks 2007)
" ... non - western states often, if not always, have unbalanced politics, but these may not necessarily be bureaucratic politics." Discuss.     (20 marks 2009)
"Truly comparative administrative studies are empirical, nomothetic and ecological." (Riggs) In this perspective, examine the current status of Comparative Public Administration. (20 marks 2008)
Explain the meaning, significance and Models of Comparative Public Administration. (60 marks 2004)
"The Prismatic model of Riggs is equally applicable to developing as well as developed society." Comment. (20 marks 2010)
Which of the model(s) in development administration is/are characterised by 'Selectivism', 'Attainment' and 'Poly- functionalism'? Describe the corresponding theoretical roots and attributes. (30 marks 2009)
Comment on the reasons why universal theory remains elusive in comparative public administration. (20 marks 2012)
'Rigg's classification of societies into fused, prismatic, and diffracted is built around the concept of differentiation.' Analyze. (15 marks 2012)
Comparative Public Administration both resembles and differs from modern organization theory. Elaborate (10 marks 2013)
What is Administrative elitism? How does it evolve in Public Administration? elaborate your response with reference to historical examples(10 marks 2013)
"….in most cases….newly independent states, of the nations of Africa, Asia and Latin America, despite their differences…are in transition." (Ferrel Heady). What common features are indicative of characteristics of their Administrative patterns (cultures)? (15 marks 2013)
Critically examine the Riggsian concept of differentiation in the context of the post-globalization era. (10 marks 2014)
How does Ferrel Heady rationalize the three stages of development in comparative administration? (20 marks 2015)
"Riggs observed that three 'trends' Could be discerned in the comparative study of Public Administration." Discuss. (10 marks 2016)
"The Riggsian models of Fusion –Prismatic-Diffracted Societies and their administrative systems have been inspired by Max Weber's typology of Traditional Charismatic  Legal-Rational Authorities ." Analyze (20 marks 2017)
"Administrative systems across the world can be understood only in their respective historical and social contexts." Explain the statement giving examples. (20 marks 2018)
The failure to discard its elitist character and west-centric orientation has led to the decline of Comparative Public Administration. Explain. (10 Marks 2019)
"Comparative Public Administration started with no paradigm of its own and developed nane" Comment (10 Marks 2020)
"Administrative ideas must be seen in the context of environment in which they develop." In the light of the above statement, examine the influence of New Public Management and Information and Communication Technologies on comparative study of Public Administration.(20 Marks 2020)
 

(Audio Notes) Topic: "Discussion on Prime Minister's Message from Raisina Dialogue to the world" 15 April 2021
Posted: 14 Apr 2021 10:34 PM PDT

Current Affairs Daily Voice Notes
Spotlight/News Analysis (15,April 2021):
Topic of Discussion: Discussion on Prime Minister's  Message from Raisina Dialogue to the world
Interviewer : Ashok Sajjanhaar (Former Diplomat);Simran Sodhi (Journalist)
Player-1 (English) 
(Audio Notes) Topic: "Discussion on India- France ties gaining strength" 14 April 2021
Posted: 14 Apr 2021 10:26 PM PDT

Current Affairs Daily Voice Notes
Spotlight/News Analysis (14,April 2021):
Topic of Discussion: Discussion on India- France ties gaining strength
Interviewer : Ashok Sajjanhaar  (Former Diplomat);Manas Bhuyan (Journalist)
Player-1 (English) 
Current Affairs MCQ for UPSC Exams - 14 April 2021
Posted: 14 Apr 2021 10:14 PM PDT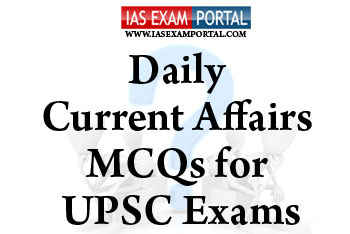 (VIDEO) India- France Relationship : Rajya Sabha TV Big Picture Debate
Posted: 14 Apr 2021 10:13 PM PDT
(VIDEO) India- France Relationship : Rajya Sabha TV Big Picture Debate
Topic of Discussion: India- France Relationship  : Rajya Sabha TV Big Picture Debate
Expert Panel Name : 
Rakesh Sood, Former Ambassador 
Maj. Gen. Dhruv C Katoch (Retd.), Director, India Foundation
Anchor- Vishal Dahiya
Current Affairs for IAS Exams - 14 April 2021
Posted: 14 Apr 2021 10:06 PM PDT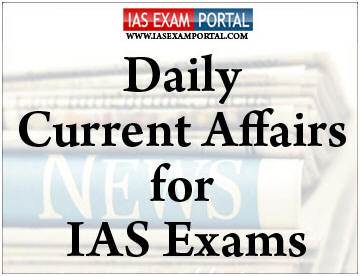 (VIDEO) Raisina Dialogue : Rajya Sabha TV Big Picture Debate
Posted: 14 Apr 2021 09:28 PM PDT
(VIDEO) Raisina Dialogue : Rajya Sabha TV Big Picture Debate
Topic of Discussion: Raisina Dialogue : Rajya Sabha TV Big Picture Debate
Expert Panel Name : 
Prof. Harsh V. Pant, Head, Strategic Studies Programme, ORF
Pramit Pal Chaudhuri, Foreign Affairs Editor, Hindustan Times
Anchor- Vishal Dahiya